Dovl as an affordable Confluence alternative
"There is a lot to like about Dovl since there is a lot going on under the hood. It is basically "budget Confluence" - an incredible value for money."
M. Odemis, Univerlist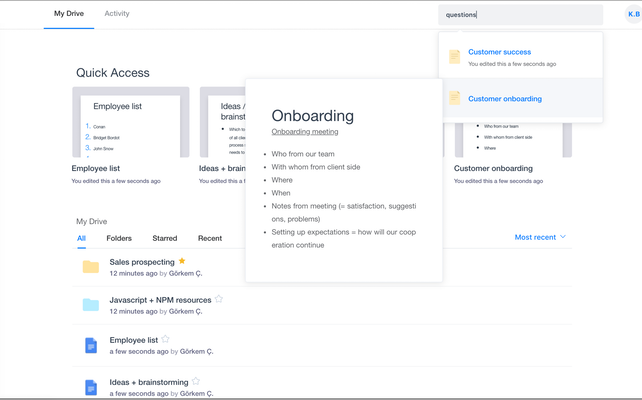 Dovl is the best alternative to Confluence
We know the importance of choosing a knowledgebase that fits your company's needs. That's why we built Dovl, overcoming problems of Confluence.
Affordable, no hidden fees
Super easy search user interface
Side by side comparison
| | BALSA | CONFLUENCE |
| --- | --- | --- |
| Pricing | Always within your budget. | Starts low, increases rapidly |
| Editor | Easy, plugin based, human oriented | Clumsy and slow |
| Security and privacy | Data always stays in your company servers | Your data is on Evernote servers |
| Source code | Open source with the ability to modify | Closed source |
| Customization | Advanced customization options | Limited options |
| Search capabilities | Very fast and intuitive | Below average |
Dovl is a secure, open source and self hosted Evernote alternative
PROJECT COLLABORATION
Dovl provides a collaborative environment where users can comment on the document and enhance company resources.
COMPANY WIKI
Dovl makes it simple and easy for every member in your organization to contribute to knowledge.
TEAM DOCUMENTATION
As an on-premises Confluence alternative, Dovl provides a high level team authentication for secure access to data.